Lord is keeping us in His hands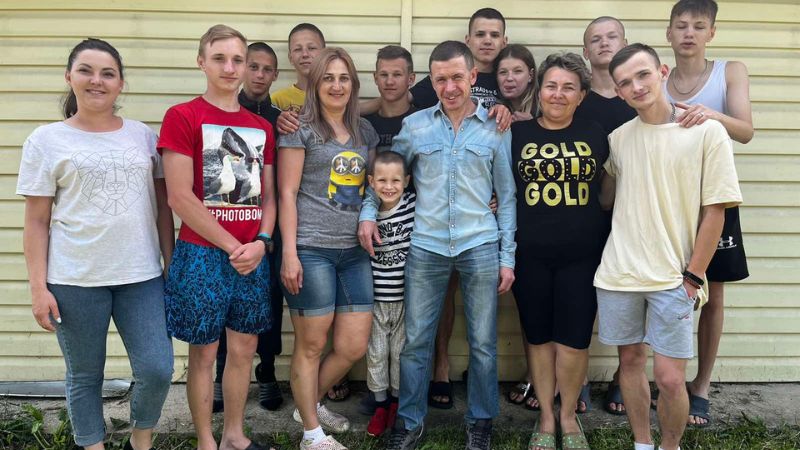 From time to time we try to throw light on ministry of UETS students and graduate during the war… Below you can find a testimony of Natalia Koval', a nonresidential student of theology:
"Since 2016, we have been welcoming children from problem families and orphanages to foster them at our home. We have 15 children overall aged from 7 to 27, with 3 of them being our biological children and 12 being our foster children. One of our fostered children is defending our country in the ranks of the Ukrainian Armed Forces.
In February, when an active phase of the Russian aggression started, we decided to stay in Ukraine. On the one hand, we hoped that the frontline would not get close to Vinnytsia, where we lived, and, on the other hand, we realized that we had to ensure a reliable rear for those who found themselves in much tougher and more dangerous circumstances. We, of course, had an evacuation plan and were monitoring the situation non-stop, but the Lord enabled us to fulfill our mission in Ukraine.
Our children accepted the challenge seriously and started to prepare rooms for evacuees. They helped in the kitchen, met people who were looking for a shelter, provided them with basic necessities, talked to them. It lasted for many weeks…
Later we noticed that the refugees who had found shelter at our church, started coming to church services, which were held regularly, their children started attending the Sunday School. In other words, our church became a place where they could find rest, comfort, share their experience, and get support.
Overall, our foster family has hosted 31 internally displaced persons, all of whom found necessary material and spiritual support. As of today, a family with many children, which escaped from the totally demolished city of Mariupol in Eastern Ukraine, is still staying with us. They have already become a part of our large family. I am thankful to God for the children we are fostering, for their efforts to ease pain of every suffering refugee.
When the spring came, it turned out that many younger local families with children had left, but their elderly parents stayed. Whereas those elderly had previously enjoyed help from their children and grandchildren, at the wartime they had to cope with hard work in their fields and gardens on their own. So, our foster children decided to offer their feasible help to the elderly in our neighborhood. We were very happy to see that they could identify needs and were ready to help.
We regularly gather together with the children and those who were forced to flee the horrors of the war to pray for Ukraine, our soldiers, peace through victory over the enemy who want to steal our land. It is a great blessing to see how the Lord is keeping us in His hands."
Below you can find a testimony about the current ministry of our partner Word of Faith...
Details
Thank you for being the ones we can share our hearts with at this challenging time. We...
Details
Last week, our team of eight volunteers went on another relief trip to Eastern Ukraine…...
Details