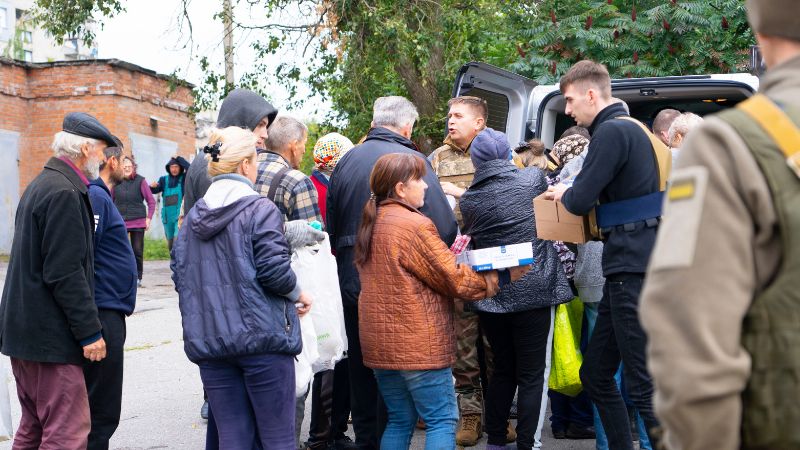 Last week, our team of eight volunteers went on another relief trip to Eastern Ukraine…
Though the destination point was Kramatorsk, our volunteers took advantage of the opportunity to deliver humanitarian aid to Izium, which had just been liberated from the Russian occupiers as a result of the Ukrainian counteroffensive. It seems that we turned out to be the first relief mission who got there after the de-occupation of the town.
What was shocking it was the impression that many people there were looking totally emotionless, speechless and broken. The mass burial site of more than one thousand bodies found in Izium, with many of them showing signs of torture, testifies to what the local people had been through.
The town is lying in ruins. There is no mobile connection, electricity, water supply… No transportation, no stores, no infrastructure, no utilities. By preliminary estimates, there are around 25 000 people in the town. Of course, these are mostly elderly people who did not want or could not leave.
Considering that the front line is close and the town is subject to shelling, with objects of civil infrastructure being regularly targeted, there is high probability that these people will have to survive the coming winter without heating or even electricity. This even more emphasizes the need of further humanitarian effort to help them prepare for the harsh winter ahead.
Also, we are very grateful to God that He keeps us safe on such trips. Two days after our team left, the hotel in Kramatorsk where our volunteers stayed for a night was directly hit with the Russian missile and completely destroyed.
Despite predictions, the fighting in the East and South is still very intense, with the...
Details
Couple weeks ago, we were on another trip to the warzone in Eastern Ukraine… We went to the...
Details
The war in Ukraine is still taking its toll, which testifies to the scope of the suffering...
Details