As you remember, in the spring, when the frontline was just several miles away, the seminary campus sustained significant damage caused by the Russian self-propelled artillery. We posted pictures of shattered windows, damaged facades, broken roofs and doors, looted offices and classrooms, etc. At that time, the scope of works to restore everything seemed overwhelming, if not hardly realistic…
Today, however, we would like to share good news that over the last five months, after returning to our campus, we have managed:
to clean all rubbish and debris both inside and outside
to build a new roof instead of the damaged one over the maintenance building
to replace a roof over the cafeteria building
to fix the damaged water supply system
to fix the damaged heating system in the cafeteria
to fix or replace all windows
to fix or replace all inside doors (damaged by looters)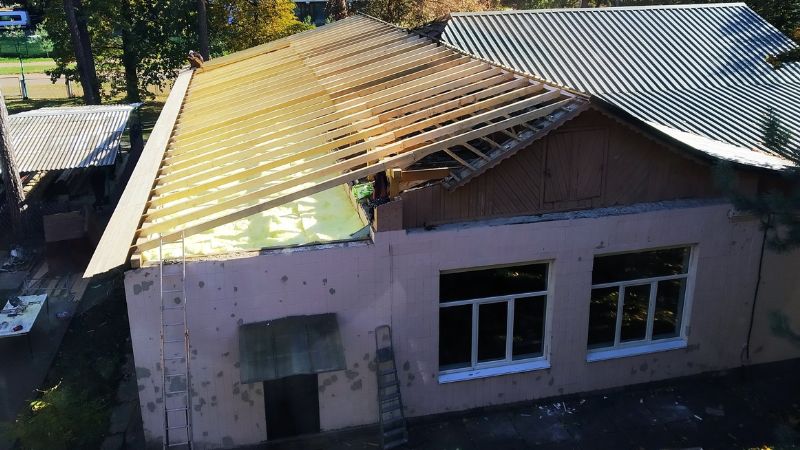 We are happy to have done all these things just in time before the cold season. Though the students are studying in the online mode this term, the seminary faculty and staff can teach, work and live again in more or less comfortable conditions.
Right now, facades of the maintenance building and our cafeteria are being restored. In the near future, we are going to change the outside doors in our main academic building and cafeteria damaged with shrapnel. Also, we plan to retile the stairs leading to the front porch.
Therefore, we would like to express our sincere gratitude to all our partners and friends who have donated funds for our campus restoration so that we could continue our main mission of training national church leaders. Glory be to God for His mercy!
Thank you for being the ones we can share our hearts with at this challenging time. We...
Details
More and more people are coming to the seminary cafeteria from our neighborhood and...
Details
Let us share the latest developments and current prayer requests of the seminary: ...
Details